About Us
Our Story: Foods of the Sun
The Cypressa story began in the 1950s, when three young brothers from the Katsouris family started selling olives, olive oil and pulses at markets in and around Famagusta, Cyprus. Soon the brothers gained a reputation for the quality of their produce which they sourced from local specialist producers and growers.

The brothers had ambition and in the late 1950s they started to export their vibrant produce to the UK. In time, the brothers moved to London to accelerate their distribution whilst continuing to work with the same specialist producers, now family friends, with whom their reputation for quality was born.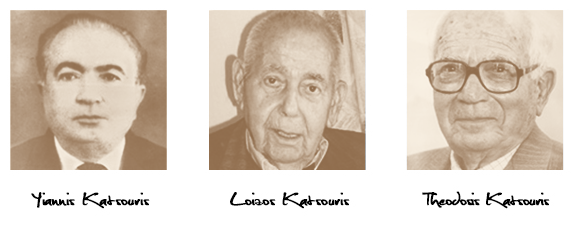 By 1964 the brothers range of products had evolved into Cypressa. Over the years, 3 generations of the family established the brand as the name synonymous with authentically sourced foods in the specialist ethnic stores and markets of North London.

Today, Cypressa continues to grow and evolve, always with the same ethos of seeking out and nurturing relationships with like-minded specialist producers and growers to bring their "Foods of the Sun" to the UK market.

Cypressa celebrates and champions the quality foods from the Katsouris family homeland with Greek specialities like olives, olive oil, tahini and halloumi; and equally extends across borders to capture the foods and flavours of the whole Mediterranean, the Middle East and beyond.
Our Values: Quality food from quality partners
The Katsouris brothers' built their reputation on sourcing authentic, quality produce from like-minded producers and growers. Today these values remain firmly in place and are at the heart of everything we do.
When you taste Cypressa produce, you'll be transported to the origin of the product and experience the full flavour of the sun.
Our commitment to Sustainability & Ethics
We act today to protect tomorrow's world by integrating sustainability into our strategy.

We believe sustainability should happen whenever we make a business decision, big or small and it has become a natural function of how we operate. It's not just about challenging ourselves as individuals, but also our supply chain. It is inspiring to see how, for instance, our olives or tomato growers collect the water they use during their production process, clean it and use it again to water plantations.
Cypressa's code of conduct is consistent with the Ethical Trading Initiative Base Code. We are dedicated to behaving responsibly towards every individual that works for or within the business, as well as throughout our supply chain.

Find out how to correctly dispose of your household items here.
"We established Mediterranean categories in the UK and continue to bring new products to market for the UK consumer to enjoy."
Costas Constantinou, Katsouris Brothers