Cypressa Gyros Wrap Kit
Create your own Gyros Wrap in 25 minutes!


Gyro (pronounced YEE-roh) is a traditional Greek dish of roasted marinated meat served in a flatbread, usually with tomato, onion, and sauces. Make it vegan or vegetarian by replacing the meat with roasted chick peas. Wrap it and enjoy!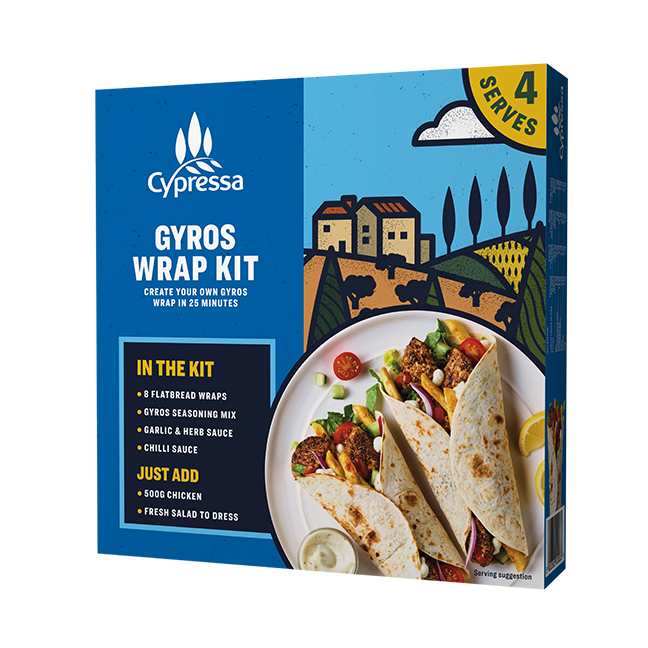 In the kit
8 Flatbread wraps
Gyros Seasoning Mix
Garlic Sauce
Chilli Sauce
Just add
500g Chicken
Fresh Salad to dress

Interesting Facts About Gyros
Gyro is derived from the Greek word "gheereezo," which means "to turn" or "revolution," and it is because of the process of how the meat was traditionally cooked.
Grilling a vertical spit of stacked meat slices and cutting it off as it cooks was developed in Bursa by Turks in the 19th century Ottoman Empire, and called doner kebab. It was then introduced in Athens by immigrants from Anatolia and the Middle East during the World War II. Doner kebab made with lamb or pork later became known as 'gyros'
There is actually a National Gyro Day and it is September 1st.
The largest Gyros weighs 4,022 kg , and was achieved by Sami Eid, Cypriot Lebanese restaurateur who lives in Limassol Cyprus, in 2009.
Make your favourite Mediterranean inspired wrap at home
Ready in 25 mins, serves 4

Convenient meal for any day of the week

Great to get kids to eat more vegetables

Suitable for vegans (by using vegan proteins instead of meat)