Cypressa Falafel Wrap Kit
Create your own Falafel Wrap in 30 minutes!


Falafel is a popular Middle Eastern food made from chick peas (or fava beans), herbs and spices that are formed into small patties or balls and fried or baked. Serve them in a flatbread with salad, dress with the sauces, wrap and enjoy!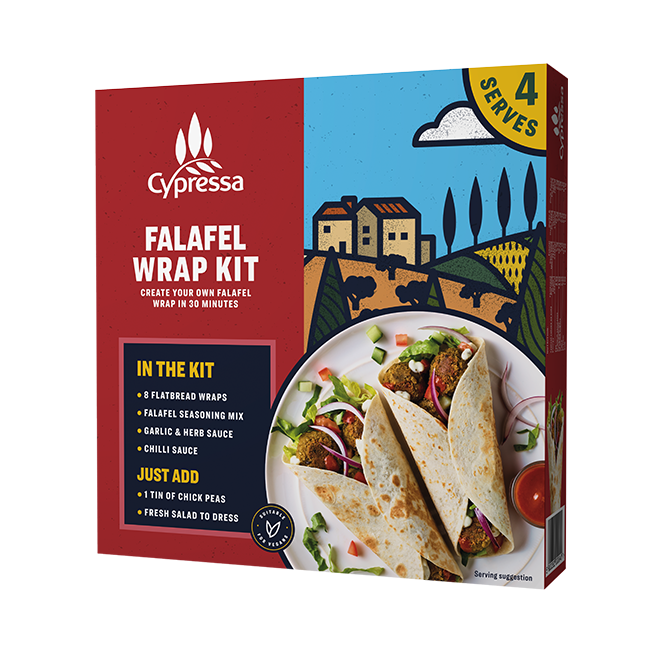 In the kit
8 Flatbread wraps
Falafel Seasoning Mix
Garlic Sauce
Chilli Sauce
Just add
1 tin of Chick peas
Fresh Salad to dress

Interesting Facts About Falafel
Falafel is usually made with chickpeas but in Egypt they use fava beans instead.
The word "falafel" may descend from the Arabic word falāfil, a plural of the word filfil, "meaning long pepper."
The origin of falafel is controversial but it most likely originated in Egypt, possibly influenced by similar Indian dishes. It has been speculated that its history may go back to Pharaonic Egypt.
The largest falafel ball weighs 101.5 kg , and was achieved by Hilton Dead Sea Resort Spa (Jordan) in the Dead Sea, Jordan, on 31 May 2019.
The largest serving of falafel was 5,173 kg (11,404 lb 8 oz) and was achieved by Chef Ramzi Choueiri and the students of Al-Kafaat University (all Lebanon) in Beirut, Lebanon, on 9 May 2010. The falafel was served on the new largest ceramic plate, which measured 7.17 m in diameter and was created by local architect, Joe Kabalan.
Make your favourite Middle Eastern inspired wrap at home
Ready in 30 mins, serves 4

Convenient meal for any day of the week

Great to get kids to eat more vegetables

Suitable for vegans